You've seen her. She's everywhere. On the runways of Burberry Prorsum, Topshop, and Oscar de la Renta (Instagramming with her fellow model Karlie Kloss). Yes, in the past few days, you have probably gazed upon the fierce face of 20 year-old Brit, Cara Delevingne, who has seized the fashion industry by the heartstrings while strutting her stuff for Fashion Week.
But who is she? And how did she just explode onto the scene?
The younger sister of model Poppy Delevingne and part of a privileged family, Cara Delevingne is a fashion model currently signed onto Storm Models based in London. She became the face of Burberry in 2011, modeling with fellow Briton Eddie Redmayne, and soon began to dot the runways of the world, most famously appearing in the 2012 Victoria's Secret Fashion Show. She wants to transition into acting, already playing a small role in Anna Karenina as Princess Sorokina, the apple of Count Vronsky's marital eye. Delevingne has been hailed as the new Kate Moss, and her quirky habits certainly make her one to remember amidst the crowds of models. She's young, she's bizarre, and she's about to sweep the world off its feet.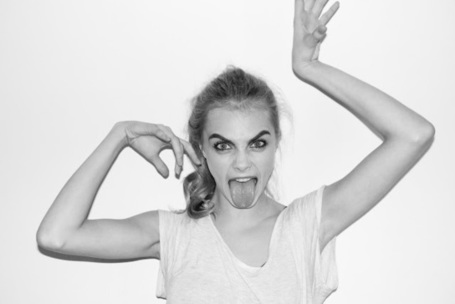 For me, Cara Delevingne is not just an incredibly gorgeous model with enviable elfin features, but someone that I feel like I can relate to. Like her, I have naturally thick eyebrows. Unlike her, I sometimes feel self-conscious of the fact that my eyebrows seem to lend my facial features more masculinity than I'd prefer. Cara, on the other hand, manages to make her features a trademark to be proud of rather than abashedly self-aware about. She embraces all of her oddities and invokes strangeness (and she loves her brows!) so whole-heartedly that it makes me really glad that she is the new IT girl of the fashion industry.
(Seriously. How can you not love this girl??)
Photography Credits go to Elle, Burberry Prorsum, Terry Richardson, and Cara Delevingne